"We, in Olympic Traveller, are dedicated to provide each of our customers with personalized quality services.
We aim to make their trip to Greece a memorable experience and contribute to their well being."
If you are visiting a Greek port while you are on a cruise we can offer you a selection of organized and private shore excursions to show you the highlights that every destination has to offer. All of our joined shore excursions are semi-private(max 25 persons) to provide premium quality personalized services. Olympic Traveller offers a guaranteed in time return to your cruise ship.
For you that have planned to spend your vacation in Greece we can help you organise your trip by offering you customized private tours in the Greek mainland and islands. Private tours are offered not only to small parties but also to larger groups that travel individually. We also offer private travel planning for custom tailored vacations in Greece.
We have a selected team of outstanding experienced proffesionals to cover different transportation, accommodation and attraction options through out Greece in order to ensure a premium quality personalized service.
It would be our pleasure to offer you our proposals and invite you to discover the beauties and heritage of our country as well as the hospitality of the Greek people.
Christos Dorziotis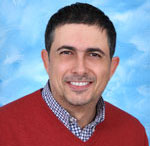 Christos Dorziotis, founder of Olympic Traveller, was born and raised in Athens where he studied Tourism at the Technological Institute. In 2001 he completed his post graduate studies at the University of Surrey in the U.K. where he was awarded an Msc in Tourism Marketing.
For two decades he served the tourism industry in Greece as a hotel Manager and operated in Olympia during the pre and post Athens Olympic Games period from 2001 until 2006. Between 2005 and 2013 he worked as a professor of technological applications at the Technological Institute of Patras.
The municipality of Olympia has honored him by offering a seat at the Olympia Committee for Tourism Promotion.
What Makes Our Shore Excursions Different
We only have "semi-private 25 pax" tours.
Each shore excursion is designed to serve passengers coming only from one cruise ship and do not pick up passengers from different cruise ships to avoid unnecessary delays.
We have scheduled our departure time aiming to beat the crowds at the sights.
We always arrive 30' earlier than the ship's scheduled arrival to welcome our guests in case they come out earlier.
We only have the best licensed experienced fluent in English tour guides.
We offer our guests only the finest dinning.
All our vehicles are of the latest technology, no older than five years of age, fully air-conditioned, driven by professional, experienced, non-smoking drivers.
All tours at every destination are organized exclusively by our company to be able to control the quality of services. We do NOT lease space in tours ran by other tour operators.
We have a guarantee to return in time for the passengers to embark their vessel otherwise we cover all expenses to take them safely to the next port of call.
Our prices offer the best value for money.
Money back guarantee.
All of our guests are covered by liability insurance.
What Makes Our Private Touring A Memorable Experience For You
Transportation
All vehicles are luxury type and fully air-conditioned, driven by professional, experienced, non-smoking, English speaking drivers to offer you a safe and comfortable trip. Our vehicles are of the latest technology, euro 5, fully air-conditioned, equipped with GPS, Wi-Fi hot spot, sound system and microphone. Also all of our vehicles are certified for tourist use by the Greek National Tourism Organization.
During your tour your private vehicle and driver will be flexible for small changes in the itinerary to make your trip more comfortable and create a pleasant travelling experience. Also your driver will be able to comment on the places that you will drive through and provide useful information about the sights.
Accommodation
The hotels are selected after having personally inspected each of them in order to offer you excellent location, high quality of services, elegant ambiance and warm hospitality. Breakfast served by the hotels in the rural areas is freshly prepared and mainly consisted by Greek local natural products. All hotels offer free Wi-Fi.
Attractions and Guide Services
Our tours are designed to present all major attractions at the areas visited and also provide an augmented experience that will empower the traveler to interact and be part of the social and cultural environment of our country.
We have carefully selected our licensed tour guides to be experienced, fluent in the language requested, friendly with children and flexible to customize your guided tour according to your own special requirements.